Weddings
Weddings at Druid Hills Baptist Church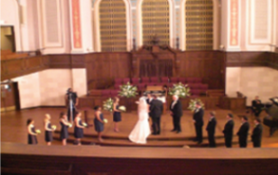 The members of Druid Hills Baptist Church (DHBC) are delighted that you are considering our church for your special day. Our facilities offer a beautiful and spiritual environment that will facilitate and compliment your memorable occasion.
Our strikingly beautiful sanctuary was recently renovated and is often rented for wedding services. It will easily seat 500 and has served as the site of choral concerts including the Atlanta Boy Choir.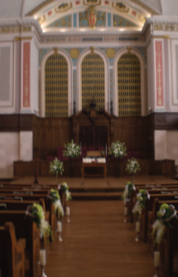 To schedule a tour or appointment or to obtain more information, please contact the Facilities Director, Jim Wright, at jim.wright@dhbc.org, or you may call the church at (404) 874-5721, ext. 101 (calls will be returned as soon as possible). E-mail is faster and preferred.
When you have read our Wedding Policies and are ready to reserve a date, please download our Sanctuary Wedding Contract and return it with the reservation deposit to:
Druid Hills Baptist Church
Attn: Jim Wright
1085 Ponce de Leon NE
Atlanta, GA 30306
We hope you enjoy the use of our facilities. Join us for our Sunday morning Worship Service at 11:00 whenever you can!